Thank you to everyone that participated in our 2017 Ice show! Please check back in the beginning of December 2017 to register for our 2018 show.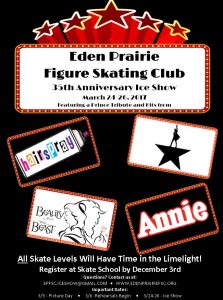 The Eden Prairie Figure Skating Club sponsors an annual Ice Show in the spring for its members and skaters from the Eden Prairie skate school.
If you are interested in being in the show, download the appropriate ice show registration form:
If you are interested in becoming an advertiser in the Ice Show Program, please click to learn more now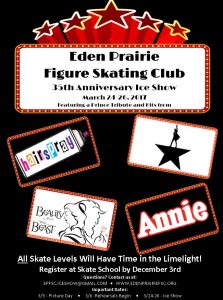 2017 ICE SHOW DATES AND TIMES
Friday, March 24 at 7:00 pm
Saturday, March 25 at 5:00 pm
Sunday, March 26 at 2:00 pm
Tickets will be available for purchase at the Eden Prairie Community Center starting around March 20.